February 28, 2017 — Medsquare is proud to announce the integration of the organ dose module 'VirtualDose™CT' into its DACS Radiation Dose Monitor (RDM) solution. Developed in partnership with Virtual Phantoms, Inc., this new module will be added to RDM's existing features and will be presented for the first time at the European Congress of Radiology (ECR).
The features of the organ dose module are the following:
Monte Carlo algorithm calculation of mean doses delivered to organs by type of activity using existing dose data (DLP, CTDI, etc.)
Estimation of the dose received by the fetus from the different stages of gestation of the pregnant woman
Several parameters are considered: weight, height, age, pregnancy stages of the pregnant woman, etc.
Calculation in accordance with ICRP- 60 and ICRP-103 recommendations
"With the calculation of the organ dose, Medsquare is opening a new perspective on patient radiation safety. This agreement − the fruit of over several months of exchanges between the two companies − continues the process of reducing and optimizing the dose delivered to the patient," said Dominique Gabriel, CEO Medsquare.
*DACS: Dose Arching and Communication System
About Virtual Phantoms Inc

Virtual Phantoms, Inc. was founded in 2009 by faculty members from Rensselaer Polytechnic Institute, in collaboration with the University of Florida, with an exclusive license of the "Virtual Patient" technologies developed from nearly 20 years of research at RPI and UF in the field of nuclear and radiological engineering.
Combining a large collection of anatomically accurate models of patients of various ages and sizes and sophisticated "Monte Carlo" simulation methods originally developed for nuclear weapons research at Los Alamos in the 1940s, VPI is recognized as a world leader in the modeling of ionizing radiation, radiation safety, and medical/occupational radiation dosimetry.
For more information about Virtual Phantoms or VirtualDose™CT:
Website: www.virtualphantoms.com
Contact: Peter Caracappa, VPI Chief Technology Officer; +1 518-421 6931,
peter.caracappa@virtualphantoms.com.
About Medsquare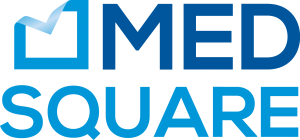 Medsquare provides innovative solutions for the medical imaging environment. Our solutions (burning, printing, archiving, secured web image distribution through the internet, etc.) are currently being used in more than 450 university hospitals and private clinics in France and more than 2000 around the world.
Founded in 2006 as a French company based in Paris, Medsquare is a key partner of the world's leading radiology equipment manufacturers, who offer our peripheral devices and software to their customers bundled with the sale of their DICOM modalities (CT, MR, XA, etc.).
Medsquare is also a leading player in the DACS (Dose Archiving and Communication System) market. Our patient dose management system – Radiation Dose Monitor (RDM) – enables healthcare institutions to collect, control and analyze radiation doses delivered to patients during medical imaging exams. RDM helps improve clinical practices and optimize doses.

Karen FRANGIE: k.frangie@medsquare.com
Communication Leader
Medsquare
17 rue du Jura
75013, Paris – France
T: + 33 (0)1 55 25 62 50
For more information, visit our website: www.medsquare.com
*DACS: Dose Arching and Communication System