VirtualDoseCT solves the need for accurate CT-X-ray radiation dose tracking and reporting by providing anatomically correct 3D patient modeling. Our Web-based solution revolutionizes the way organ doses are calculated for health physics applications.
Our breakthrough technology is built on a well-tested family phantoms, revolutionary GPU-based Monte Carlo simulation, and innovative Software as a Service (SaaS) programming techniques. It permits radiation health professionals to obtain highly accurate images with much greater patient safety.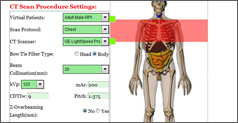 Using 3D models of virtual patients at varying weights, in varying gestational stages of pregnancy, and at child ages from newborn to age 15, VirtualDoseCT delivers the dosimetry tool you've been waiting for.
Replacing crude, stylized MIRD-5 models of human patients with 3D "virtual patients":
Dramatically improves accuracy in organ doses
Improves safety of patients undergoing CT examinations
Minimizes overdose risk
Monitors dose by patient over time