VirtualDose™CT uses cutting-edge advances on Monte Carlo simulation software to estimate CT doses for the latest CT scanners and International Commission on Radiological Protection (ICRP) recommendations across multiple anatomically realistic patient phantoms for:
Average (or median) adult patients
Children at different ages (newborn, 1-, 5-, 10-, and 15-year-old)
A pregnant female at three gestational stages (3-, 6-, and 9-month)
Overweight and obese patients
SaaS Delivery. VirtualDoseCT is designed as a Software as a Service (SaaS) platform to allow as many users as possible to access it at the same time via the Internet. SaaS is a new software distribution mode that eliminates installation and maintenance expenses and coordination issues.
Phantom Technology. We have conducted years of development and testing to yield effective results with a family of 15 anatomically realistic phantoms including the 2 adult male/female, 3 pregnant female (3-, 6-, and 9-month), and 10 male/female children (1-year-old, 5-year-old, 10-year-old, and 15-year-old) with the capability to adjust the body size and shape covering 5th- to 95th percentiles.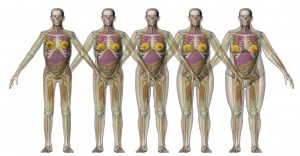 VirtualDoseCT employs a Monte Carlo-based computational method for modeling various CT scanners (energy spectrum, collimation, filtration and tube current) and clinical protocols. We support it with a comprehensive organ dose database built and maintained using the Monte Carlo CT scanner models and the organ-dose and effective-dose algorithms recommended in the ICRP-60 as well as in the more recent ICRP-103.
User-Friendly Interface. Our easy-to-use software graphical user interfaces uses 3D object-oriented programming for interactively displaying patients, selecting scanner parameters, and reporting user-friendly dose and risk information.
Enterprise SW Integration. We are developing an integration package for release in 2013 to enable stored patient data to be recorded in an institution's PACS system and in the DICOM registry.